The designed of UNB is adopted with rotary type,Selecting pieces and descending chutes, which being auxiliary with air pressure ensures the empty bottles move continuously on the filling line.
Read More
The feature of UND design is to increase the speed by double-unscramble mechanism.Empty plastic bottle a more stable for unscrambling there fore enable easy selections of pieces & descending chutes.
Read More
» The machine is suitable for washing glass bottles and plastic bottles.
» Equipped with parts made of special material, the water injection devices to use either cool cleaning water or hot cleaning water.
» The circulation system in the machine for washing is recyclable.    Read More
Convectional
Filling
Type
» The filler adopts the convectional filling type. This filling principle can prevent product from pollution and increases the filling speed.
» The filler is suitable for tea drink, non-granule juice, mineral water, etc.
» As filling, the product flowing back system can ensure the constant filling temperature.
» The product liquid will re-flow to the recycle tank fintly, via the sanitary pump motion, through the pasteurizing equipment to pasteurize, and then back to the filling bowl. It is not suitable for the temperature sensitive products.
The filler adopts gravity filling type and is suitable for filling fresh milk, drinking yogurt, fresh juice (content with fiber) and temperature sensitivity products.
The design of this filler have two models : General type and auto. CIP type. There is a safety cover surrounding the machine to isolate dust and external object. The filler can equip with HEPA on the machine top to be more suitable for fresh cool storage products.    Read More
Vapor
Liquid
Seperation
For
Gravity
Filling
» The filler adopt the convection filling type.This filling principle could prevent product polluted and increase filling speed.
» The filler is suitable for Tea Drink, non-granule juices, mineral water and etc.
» The filler is suitable for filling glass bottle beverage and can be co-ordinated with a capping machine.
» Besides all the features of the standard filler, the machine adopts the high vacuum filling type that is suitable for sauces with a higher viscosity, such as soya sauces paste, tomato ketchup, chilli sauce, etc.
Read More
Piston
Type
Volumetric
Filling
This filing system is designed for high viscosity with foam-forming product.
The filler adopts non-touch filling type. As the filler pumping in and squeezing out the filling liquid (i.e. product), the filler will adjust the distance between filler & liquid level in order to minimize the filler impact force inside the bottle.
Carbonated
Soft
Drink
Filling
This filler machine can fill bot i.e. bottle or can, the bottle can be glass or plastic, and the suitable beverage is Soda Water, Champagne, Beer, Carbonated Soft Drink and all kinds of carbonated beverage.
Filling
Equipment
For
Bags
With
Automatic
Plug
Insertion
Automatic
Capper
For
Tamper
Evident
Caps
The machine is equipped with starwheels to pick up plastic caps. The starwheels are used for bottles and plastic caps and operate synchronously so that the plastic caps can be precisely aligned with and screwed on the bottle mouths in the high-speed production.
The screwing heads of the machine are equipped with regulators having permanent magnetic floating torsion instead of the machine with stable torsion, by which the mechanical structure of the machine will be reduced wear & tear, and allow plastic caps to be screwed on the bottle with high precision. The machine is provided with bottle presence sensors having the function of not releasing plastic caps when bottles are not located in their positions.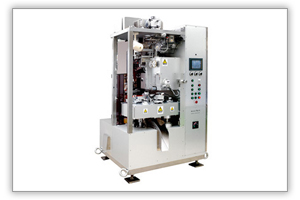 The packer has excellent service in handling glass bottles and plastic bottle packed into the case. It combines intelligence automatic arrangement bottles in feed, bottles accumulating/marshalling, bottles gripping and packing action(match the case conveyor to keep the bottles packed into the case correctly.)
The movement of the head support beam is achieved with two cam lever assemblies positions on either side of the structure by means of the circular movement of gripping bottles and putting bottles, and then return to the original position of the gripping system.    Read More