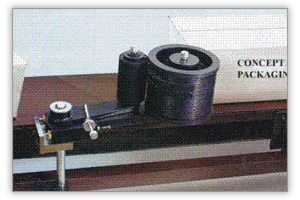 PRODUCT
OVERVIEW
The Auto Coder is a semi-automatic product marking system suitable for the 'on-line' printing of text and logos. 'On-line' marking, automatically Long life ink capacity allows uninterrupted coding without the need for frequent re-inking.
Most
surfaces
Suitable for porous, nonporous, smooth and irregular surfaces. Typical applications include cartons, crates, plywood, sheets and bags.
Economically
The flexibility of the system virtually eliminates the need for pre-printed stock thus minimising inventory and reducing waste.
Easily
Installation time is short and adjustments can be made quickly to enable the coding of different sized products.
Elegantly
Precision moulded rubber typeface and quick drying ink ensure crisp prints with excellent legibility.
FEATURES
Excellent
Print
Quality
:
The entire assembly is pivoted under positive tension. Each impression is marked perfectly, Interlocking Typeface The interlocking arrangement of the typeface provides secure attachment to the roller whilst in use but also allows for the easy removal for different applications.
Easy
to
Recharge
:
Cartridge can be recharged simply by immersing it for an hour in a closed container of Concept marking ink of your choice. Alternatively, ink can be poured onto the roller with a dropper bottle.
Cartridges
:
Easy to mount and long lasting in normal use. Smudge-free inking, non-spill operation.
Versatile
Mounting
:
The mounting arrangement for the AutoCoder is universal - it can be installed in almost any position or location within minutes. Easily adjusted to mark different sizes of cartons.
User-friendly
:
Print position can be changed while in use. Can be adjusted for random marking.
Applications
:
On-line marking on automatic case sealing machines, case erectors, powered/roller conveyers continuously moving paper, film, aluminium / galvanised sheets and many other surfaces :
• Batch Number
• Date of Manufacture
• Expiry Date
• Name and address of Customer/
• Manufacturer
• Product Name / Code
• Shipping Instructions
• Packing Details
• Net Weight/Gross Weight
• Price
• Invoice Number
• Statutory Markings
• Logos / Brand names
Concept
Packaging
India
:
• Concept Packaging can help all concerned in product coding - wherever you may be located.
• Concept Packaging specializes in systems integration for product identification with complete manufacturing, packaging and logistic systems.
• Concept Packaging offers a complete industrial supplier business to take care of consumables as well as service and training.
• The Concept Packaging network of operating companies and distributors offers local support to customers wherever you may be located.