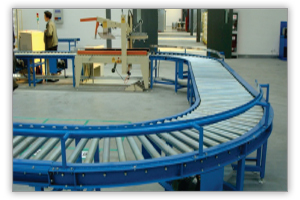 PRODUCT
OVERVIEW
:
We design and develop conveying systems for various Industrial application such as FMCG , Food, Pharmaceuticals, Edible oil , Heavy engineering , Automobiles etc.. We provide from single conveyor to large multi-conveyor systems, from input raw material to finished goods warehousing, conveyors that integrates the Complete Manufacturing process.
ALUMINIUM
FRAME
CONVEYOR
:
These conveyors are constructed out of an assembled extruded aluminum frame which is very strong yet light weight.
Concept Packaging offers modular plastic belt curve conveyors 9200 series. The 9200 Series conveyors can be used to create a product turn or a mainline conveying system in almost any configuration. The 7400 Series SS grades are widely used for Food and Pharmaceutical which are of stainless steel SS 304 or SS 316 grade as prescribed for the application.
We understand the concerns and challenges in the food handling industry. Whether your food needs are in Bakery, Confectionery, RTE, Meat, Poultry, Seafood or Dairy the Aqua proof 7000 series conveying system can be modified to meet your needs.
Heavy loads, accumulation, drainage , corrosive environment or steam ,air flow and the need to transport around a curve are all the reasons to use Plastic Chain Conveyors.
Cleated conveyors are commonly used to control product on a horizontal or inclined conveyor. The key attributes for cleated conveyors are the accuracy of the cleat spacing and durability of the cleat in the application.
Industrial conveyors need to perform in a variety of harsh and dirty environments & moving odd shaped products. Concept Packaging has a complete range of conveyors that can carry any product, regardless of shape or size.
Magnetic conveyors are created by placing permanent ceramic magnets in the bed of a standard conveyor.
We provide the an extensive range of specialized conveyors with modifications and custom engineered solution needed to achieve the optimum conveyor utilization.
STAINLESS
STEEL
FRAME
CONVEYOR
:
Many models feature a complete stainless steel construction for hygienic applications or harsh environments.